Pharmaceutical & Biomedical
Freight Forwarding - Logistics - International Shipping of Pharmaceutical and Biomedical
Regular as well as controlled substances and temperature controlled cargo
Why to use American Services to move your temperature sensitive cargo

Service Highlights and Summary

This very special and sensitive cargo is often transported using temperature controlled RKN Envirotainers.
American Services has a well proven, spotless track record of near perfect service in the area of temperature sensitive pharmaceutical shipping / logistics / freight forwarding – both domestic and international.  We are servicing a number of major pharmaceutical manufacturers, distributors and end users both in North America and in Europe for international DOOR TO DOOR import and export shipping of pharmaceuticals.  (A full set of references from well known pharmaceutical companies in the USA and Switzerland is available upon request),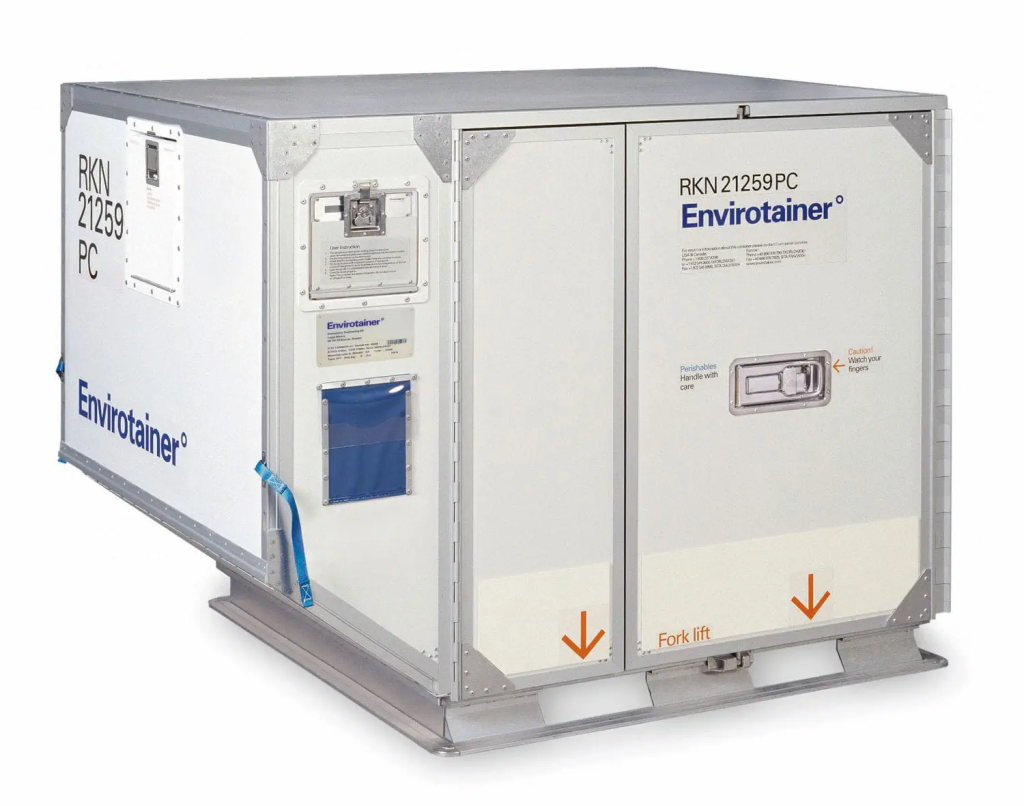 Each step of the RKN Envirotainer transit is personally monitored and supervised by the owners of American Services.  
(We are a SMALL, tightly controlled freight agency where two working owners PERSONALLY monitor each temperature sensitive shipment as well as all other sensitive and special cargo on "door to door" basis . This assures positively the best, most effective and intelligent service at all times far superior to the one provided by large international couriers).  
A single phone call (or e-mail/fax) to American Services takes care of the ENTIRE  shipping process DOOR TO DOOR.  
Reefer vehicles used are  special, EXCLUSIVE and DIRECT trucks used for your cargo ONLY.  
Temperature inside and outside the RKN Envirotainer is controlled and monitored at each transit point and during the entire move by the professionals who specialize in temperature controlled transport who, in turn, are constantly monitored and supervised by American Services.   
The Air Carriers used  (Swiss Air and Lufthansa Cargo) are world's best, most dependable and highly efficient air carriers with a proven track record. They both have many years of experience and EXCLUSIVE, HIGHLY TRAINED, DEDICATED PERSONNELL who handles, services and monitors RKN Envirotainers. Each carrier keeps the RKN Envirotainer in a temperature controlled warehouse. Temperature  inside cargo bay of the aircraft is also strictly controlled to ensure safety of your goods.  The flight we use are almost always NON-STOP, direct connections with no stopovers or change of aircraft.  Therefore, NO re-loading to another aircraft  is required which eliminates unnecessary transfer risk at the "hubs" as done by all major air courier companies  (like FedEx, UPS and similar). 
Airline Carriers  used  and reefer trucks keep detailed records and logs of temperature and cargo status at each transit point for audit purposes.  
Temperature recorder/sensor monitors and records RKN Envirotainer internal temperature. 
American Services provides 24-hour update/tracing/confirmation of each step of your cargo  transit via e-mail, fax or phone (at your discretion). 
At Your Convenience, You may ALWAYS reach us 24/7 at our office phone, mobile phones, e-mail, fax  as well as at our 24/7 emergency pager.